Features
By using a vacuum cleaner from Hitachi, feel the technology that can provide you easier and more convenient way to clean up your space.
Product Excellence
Dust and air Centrifugal Separation System
Air flow that occurs in the filter tube creates a powerful cyclone that efficiently separates dust with air makes the dust trapped and the air flow is maintained.

Dust Compression Technology
Dust trapped in the dust bag will condense as a result of a strong cyclone.

Long Lasting Sunction Power
Clean air is separated from dust in the tube filter to reduce clogging by dust resulting fiter suction power decreases.
Large 3.2L Dust Capacity
Compact vacuum cleaner which can accomodate a lot of dust. This is due to the 50% suppressant technology, so 1.6 liter capacity can accomodate 3.2 liter of dust.
*2 has been tested by Hitachi. The density of dust depends on the type of dust. '


Easy to Empty
Clean the dust bag easily with a single touch, keeping hands clean because dust had been compressed so
that dust does not fly.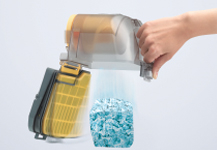 Clean Air with 7-Stage Filtration
Using technology from Hitachi and HEPA Cyclonic and Nano Titanium filter, provide 7 step of innovative filtering system to capture the smallest particle so that the exhaust air will be clean.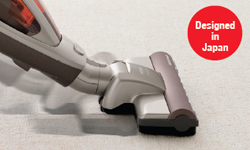 Nano Titanium Fitlter
Nano Titanium is the latest technology using TiO2 catalyst to eliminate odor effectively.
* It has been tested by the Japan Spinners inspecting foundation. © Inspection Method: JS L1902 © Antibacterial Method: Consolidated into the fiber © Value of Antibacterial Activity of L Staphylococcus Areus (5.0) Standard of effectiveness in antimicrobial value is 2.0 or above.




Handy & Easy Remote Control (infrared Remote Control)